Exceptional Quality

Lasting Relationships

Affordable
Situated in the open grassy plains of the beautiful Cumberland Plateau in Eastern Middle Tennessee, Hey Hay Farms is comprised of a group of men and women dedicated to a premium hay product. Our goal is to provide top-quality hay that is as affordable to the horse owner as it is nutritious for the horse. 
At Hey Hay Farms, we specialize in premium mixed grass hay. The mixed grass hay that WE produce results in a premium quality product due to careful management practices given to each field to ensure optimal and nutritious growth of nutritious grass… and NOT weeds. 
Our hay is a mixture of Fescue with varying percentages of Orchard Grass, Timothy, and native grasses, which vary from field to field.
Every year, we harvest over 1,500 acres of clean mixed hay that has been both sprayed and fertilized.
Our specialty is providing premium hay ALL YEAR LONG!

Give us a call
931-456-9292
FAQ
Hey Hay Farms is located on the beautiful Cumberland Plateau in Tennessee.
Hey Hay Farms offers multiple delivery and pickup options. Choose to come visit us yourselves and pick up a few bales or have us deliver to your barn to save you time and money. We have flatbed and box trailers up to 53ft for your delivery needs.
Our baling and storage process ensures that whether you need 100 square bales or 1,000 large bale bundles, we have you covered.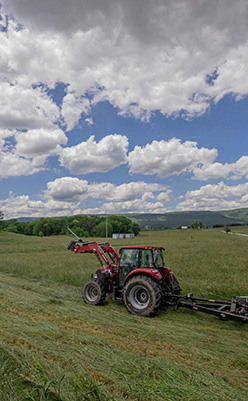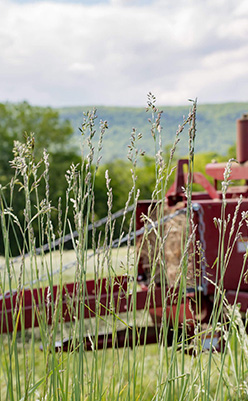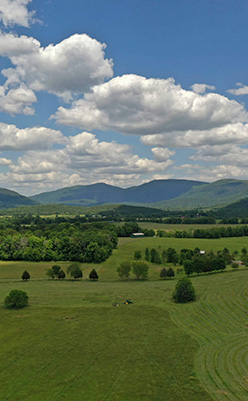 Superior Hay Starts with the Soil
At Hey Hay Farms, we take extra precautions to make sure our hay is superior in every way. From the field to the barn, the quality of our hay is preserved for months after harvest. 
Providing Quality Hay – All Year Long!
We understand that you need hay year round, and that is why we make it our priority to sell quality hay all year long. We offer delivery or pickup to ensure you're always able to get the product you need. 
For More Information, Please Call

931-456-9292